Chartered Institute of Management Accountant (CIMA)
The Chartered Institute of Management Accountants (CIMA) is the largest professional body of management accountants founded in 1919. The Professional Qualification comprises three pillars of knowledge domains divided into three levels of achievement.
The pillars are Enterprise, Performance and Financial.
The levels are Operational, Management and Strategic.
The qualification examinations are made up of 12 exams: Nine Objective Tests, and Three Case Study exams. Objective Tests are 90 minutes long. Computer-Based Examinations are also available on-demand at approved CIMA assessment centres. Case Study exams are 3 hours long and their computer-based options are available in four windows throughout the year at CIMA approved assessment centres. The course content, number of pillars and levels involved are presented in the table below:
 

 

 

PILLARS

LEVELS
Enterprise
pillar
Performance
pillar

 

Financial
pillar

 

Level 4: Strategic level
E3
Strategic
Management

 

P3
Risk
Management

 

F3
Financial
Strategy

 

Level 3: Management level
E2
Managing Performance

 

P2
Advanced
Management
Accounting

 

F2
Advanced
Financial
Reporting
Level 2: Operational level
E1
Managing Finance in a Digital World

 

P1
Management
Accounting

 

F1
Financial
Reporting

 

Level 1: Certificate Level
A1
Fundamentals
of Business Economics

 

BA2
Fundamentals
of Management Accounting

 

BA3
Fundamentals
of Financial Accounting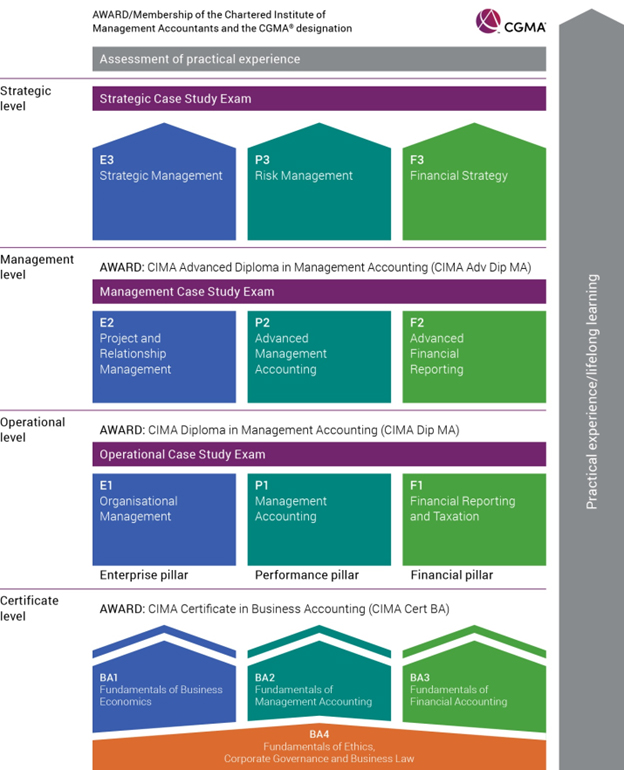 When combined with the required practical experience, CIMA qualified members will be capable of supporting and leading their organisations through the challenging environment of constant change.